All Day Summer Care
Join SPARK this summer as we explore the great outdoors! We are excited to offer full-day care for children entering Pre-K through 6th grade. SPARK is a licensed childcare program with a 2 Star rating through Oklahoma's Reaching for the Stars, and we've been here at FPC since 1984!
Dates: June 1 – August 4
Cost: $150 per week + $55 enrollment fee.
Note: SPARK offers a discount to FPC members, and we are contracted through DHS to provide care for families using state-funded childcare assistance.
We have begun planning our adventures and we are super jazzed to share them with you! SPARK offers kids a wide range of hands-on experiences that encourage problem-solving, exploration, and teamwork. Our days will be filled with arts and crafts, group games, short lessons to keep brains active, clubs and workshops, water play, outings, friendship, and plenty of time to play!
For more information on summer or to take a tour of SPARK, call us (405-525-0018), send an email ([email protected]), or reach out on social media!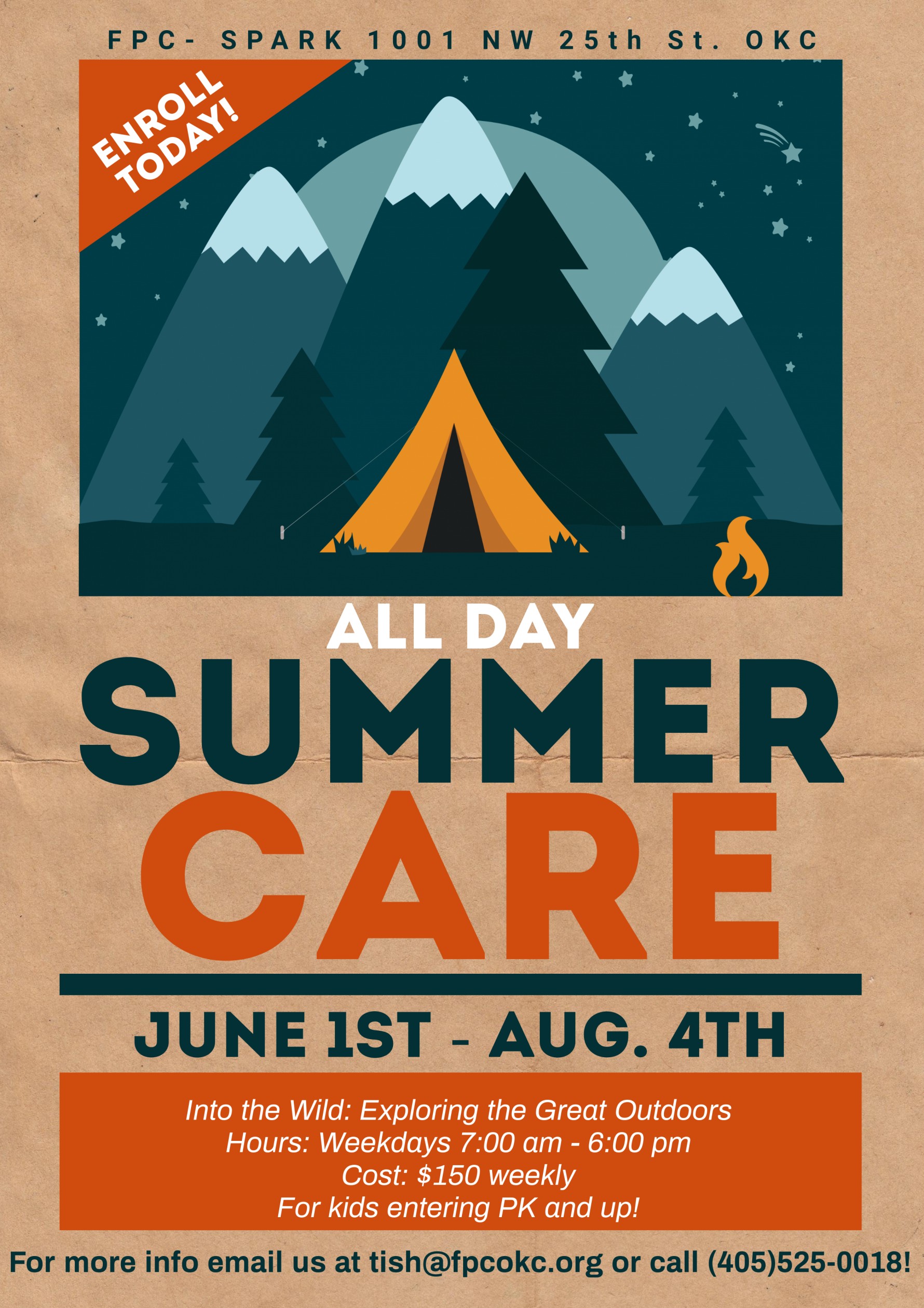 Blended Learning & Child Care Program
As schools transition to online learning for the fall semester, SPARK is offering an all-day child care program to school-age children who are enrolled in a virtual learning program through their school district. SPARK staff will provide a workspace for distance learners equipped with the materials and supplies needed to complete their schoolwork whether your child has a schedule set by their teacher or self-paced.
SPARK teachers will be available to monitor online activity, answer questions, and partner with families to encourage children to complete work on time. SPARK also provides hands-on enrichment activities and lessons in various subjects and areas of concentration that will encourage growth and learning while distance learning. Projects, activities, and lessons are teacher-led and aligned with Oklahoma Early Learning Guidelines and Oklahoma Academic Standards.
In addition to schoolwork and teacher-led activities, our daily schedule allows time for recreation, arts and crafts, free play, exploration and relaxation. Our classroom sizes are small, with a ratio of one adult to nine children. All SPARK staff members are CPR/First Aid certified and are well trained in the area of school-age care as children four years old and older are all we work with! Children must be enrolled in pre-K through 6th grade at an area school to attend SPARK.
Program Info
Date: August 31 – October 30
Time: Monday – Friday | 7:45 am – 5:00 pm
Cost: $140 per week
15% available for families with multiple children!
SPARK is DHS approved!
To comply with recommended CDC guidelines regarding COIVD-19, SPARK has implemented safety measures for families, children and staff to follow. This includes fewer children enrolled in our center, smaller group sizes, social distancing, additional cleaning and disinfecting, frequent handwashing and wearing face coverings.
About
SPARK is a state-licensed child care center and a 2-star program through Oklahoma's Reaching for the Stars. We work solely with school-age children on pre-K–6th grade. SPARK has been providing child care, homework help and enrichment activities to OKC metro children since 1984! Our program provides a safe, loving atmosphere for children with the space to experiment, the encouragement to learn from others and the time to be a kid and play!
Space is limited and we are filling up quickly! We encourage families to enroll as soon as they're able. To get more information, schedule a tour or enroll, please use the form on this page or give us a call at 405-525-0018.
You can also find more information and updates on our Facebook page.
Volunteer Opportunities
SPARK is a great place to volunteer! If you are looking for a place to get plugged in, we hope you will consider working with us.
For the 2020 fall semester, we are looking for volunteer tutors who would be available weekly to work with students on those tough subjects like math, reading and spelling. We are also in need of volunteers who can teach our kiddos something new! Are you a musician? Do you write poetry? Are you a basketball player, a painter or an excellent cook? We love being able to offer our students opportunities to learn new things and encourage them to grow a love for new hobbies.
Our primary goal for volunteers is to build positive relationships with positive role models that children can look up to and learn from. Our students feel very special when tutors and volunteers come to see them, and you will leave feeling special too.
If you are interested in volunteering with us, please give us a call at 405-525-0018 or fill out the form on this page. Select "more information about volunteering" and use the "other comments" section to tell us your volunteer area of interest.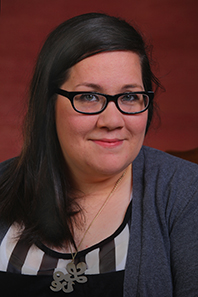 Tish Harrison, SPARK Director
Cost
Private Pay Families
Enrollment fee – $55 per child (non-refundable)
Tuition: $140 per week
15% discount for families with multiple children!
Child Care Subsidy Families
Enrollment fee – $55 per child (non-refundable)
Monthly co-pay (if applicable)
*Note: SPARK follows the OKCPS calendar.
Registration/Interest Form
If you would like more information on our exciting program or to learn more about volunteering with us, use the form below!
If your child is currently enrolled, ask Tish about the Early Bird discount.